January 20
Clothing Makes the Leader
"…all of you clothe yourselves with humility toward one another, for God is opposed to the proud, but gives grace to the humble."
I Peter 5:5
The adornment we choose today, will determine the success of ministry tomorrow. In ministry, you are vulnerably transparent; an open book of your life offered to the world. Often the target of ridicule and blame, unrealistic expectations and the object upon the microscopic lens of scrutiny, ministry comes with a price but more importantly it comes with great reward. We are serving a God whose love is so intense that He will never alter His purpose even if He has to destroy and start over again. It takes great resolve and purpose of heart to submit one's self, one's work, and ministry under the canopy of God's loving plan, way and providence. It is a wise servant who sets out to catch God's eye.
But to whom will the LORD be drawn? What servant will catch the eye of the Almighty? In the eyes of God there is nothing more lovely than a life clothed in the sweet raiment of humility. In fact, He is drawn to this life. Listen to what He tells us in Isaiah 66:2: "…But to this one I will look,, to him who is humble and contrite of spirit…" God may sit high, but He looks low. He's searching for the lowly minister, obscure worker who is never seen, the servant who runs from applause and refuses recognition. He's looking for the humble foot washer, the one who smiles at the lowly position of servitude knowing the Master was once there. The humble one catches a glimpse of glory as they willingly cast themselves upon the altar of human need believing they must resolve to do more than pity...they must serve.
In 2 Corinthians 12:10, the Apostle Paul shares the secret of spiritual giants when he says: "…When I am weak, then I am strong". Strength is dosed out within the sickness of our weaknesses. We need heroes of humility upon the earth to remind us of the validity and strength of this truth. The humble heart is resiliently strong and beautiful upon the earth but absolutely radiant in the eyes of Heaven. The servant who has come face to face with their weaknesses will find themselves face to face with the power of the everlasting Father. Andrew Murray wrote, "Pride must die in you or nothing of Heaven can live in you". He had come to understand that God rewards His servant not based upon the dignity of the position but upon the humility to which it is carried out.
"Do you wish to rise? Begin by descending. Do you plan a tower that will pierce the clouds? Lay first the foundation of humility." (St. Augustine) When Jesus had finished washing the disciples feet He asked a piercing question…"do you know what I have done to you"? He goes on to say, "For I gave you an example that you also should do as I did to you. "Truly, truly, I say to you, a slave is not greater than his master; neither is the one who is sent greater than the one who sent him." (John 13:12,15-16)
We all have an assigned place, an ordained ground of God's earth in which to till and work for His Kingdom. As the loving Creator allows us to serve Him in those precious fields of appointed harvest, we will find Him working in the barren soil of our own lives; changing us, molding us and filling us with more of Him. And as we find ourselves serving in weakness and frailty we will see His strength bringing forth sweetness even in times of provocation, pliability in times of criticism, faith in the wilderness times, patience in winter, and hope even when morning avoids its appointed return. And as we hang on to God, we will find that in that hallowed ground of barren soil a harvest will emerge in its season; a harvest of praise and glory that raises a banner to the world declaring, "It's worth it"!
Hear the hope given to us in Psalm 18:35, "…Thy right hand upholds me; and Thy gentleness (humility) makes me great." Our influence in the lives of others and in our generation will be infinitely greater if we will serve those who find themselves before our platforms whether they are great or small. Until we see the beauty in the low places of service, we will miss the rare experience of wearing the garments that once wrapped themselves around the Lord of Glory. Matthew 10:25 challenges us with the Lord's words, "…it is enough for the servant to be like the Master." In leadership…clothing is everything because clothing makes the leader!
Weave me a garment fit for a king.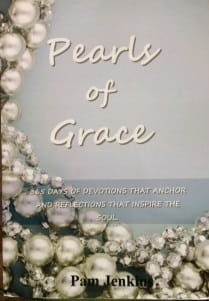 Pearls of Grace Devotional Book
Pearls of Grace is a book of devotions for the entire year, including a read through the Bible in a year calendar, broken down for every day. Beautifully written with encouraging words of hope and empowering words of joy and strength for every woman. Pam draws from the truth and richness of God's Word and gives real life examples in her down to earth style. A must have in your library, click here for more information.
For more from Pam Jenkins and Jabbok Ministries, please visit www.jabbokministries.com!
Listen to Pam Jenkins's daily broadcast on OnePlace.com.
Originally published Thursday, 20 January 2022.