January 14
When the Child Calls Upon Daddy
"And Jabez was more honorable than his brothers…Now Jabez called on the God of Israel, saying, 'Oh that Thou wouldst bless me indeed, and enlarge my border, and that Thy hand might be with me, and that Thou wouldst keep me from harm, that it may not pain me!' And God granted him what he requested."
I Chronicles 4:9&10
God is higher and stronger and more powerful than any situation or circumstance and people that may rise up against my life. Jabez understood the mightiness of God and in that belief he cried out to His Father…to Daddy in the day of his asking. He didn't run out and try to make it happen himself but rather he ran to his Father's house! What a picture of honor, trust and absolute faith we see in the life of a man named Jabez. All that He asked God was no small thing. He asked God for a blessing but not just any blessing. Jabez asked for a blessing indeed. In other words, he wanted the fullness of God's blessing. Jabez refused to settle for a portion, a slither, a serving! He boldly asked Daddy for the fullness of His blessing. Jabez wanted God's very best given to Him and by coming to God in prayer for it; He was letting God know that he wasn't going to settle for anything less than the whole of His goodness.
How often do we settle for a drink when God wants to give us a river! We must not forget that God is a bountiful God and He desires to pour out the whole of Himself upon the life of His child. God doesn't give a portion of Himself to one and then another part of Himself to another and so on. He is fully able to give all of Himself to each and every one of us because He is God! God doesn't want us to have just a slice of Him! He desires for us to have the whole of all that He is. But before this can happen, as it did for Jabez, we must give God the right not to bless us! God allows us to ask but at the end of the day, it is He that rules, not us. He has the right to bless and the ability to do so but we must always respect His position which can always choose not to bless. There is a fine line between valiant faith and selfish demands. Jabez had a faith in God but also a divine respect that remembered God was a holy God. He still had the right to sit upon the throne. All the faith in the world will not remove God from that position of authority. God's worth to you will dictate His answer!
God longs to make your heart His throne and rule there all the days of your life. This is when His reign becomes glorious and real to the world. It begins in your heart, upon the throne that is manned, guarded and only surrendered by you and you alone. With every area of life we surrender to His rule we erect unto Him an altar and when there is an acceptable sacrifice upon the altar then the fire falls! Unless there is fire upon the altar, there is no worship!
Your worth fuels my praise.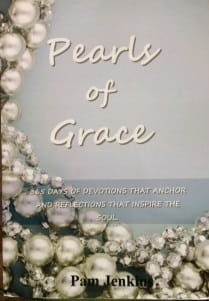 Pearls of Grace Devotional Book
Pearls of Grace is a book of devotions for the entire year, including a read through the Bible in a year calendar, broken down for every day. Beautifully written with encouraging words of hope and empowering words of joy and strength for every woman. Pam draws from the truth and richness of God's Word and gives real life examples in her down to earth style. A must have in your library, click here for more information.
For more from Pam Jenkins and Jabbok Ministries, please visit www.jabbokministries.com!
Listen to Pam Jenkins's daily broadcast on OnePlace.com.
Originally published Friday, 14 January 2022.