February 9
God Givens
"Therefore, to one who knows the right thing to do, and does not do it, to him it is sin."
Some of our greatest battles will not be with the devil but with God Himself. Take the prophet Jonah for example; God called Him to go to the city of Nineveh and preach repentance for the impending judgment that was coming against them. God wanted to extend mercy to these people but Jonah did not. At that moment of disagreement a struggle began, a struggle so fierce, so rebellious that God would swallow his disobedience up into the belly of a great fish. It was here that Jonah recognized the supreme authority of God and his choice state of full submission. The minute that Jonah knew he was to go to Nineveh and he choose not to go, it became sin to him. Personal sins are birthed within the heart of rebellion and independence and make no mistake that God will step in and correct us in it. These are things that we don't need to pray whether or not God would have us to do. These are the "God givens"! There should be no hesitation or questioning with these.
We all have those times when God leads us to do something specific, just as He did Jonah. It could be that God is calling you into ministry full time or to teach a class at church or fill a position in the nursery etc. It could be that God wants you to love your boss, befriend an unfriendly neighbor, give to a certain ministry or cause, forgive a family member, pick up the phone and call your mother or father that you have been estranged from. Maybe God has revealed to your heart a specific duty or purpose He has for you and you are wrestling with that. I understand.
When God called me into ministry, I accepted that with a little struggle but nevertheless accepted it. But when He called me to write, I rebelled, I, like Jonah, ran and thought I could hide from God's specific calling in this area. For months I wrestled with God's will and I had great anguish of soul because I knew saying no to God meant I was in sin. I rebelled for all the usual reasons: unworthy, no talent for it, there were so many writers already, how to write…now that was a big one! But God also revealed that this purpose of His would cost me everything, and my soul really rebelled. In fact, it ran out of desperation and full independence with fist in the air saying, "I will not do it'! Some surrenders are more costly than others.
Whether it's something as simple as speaking a kind word or as difficult as forgiving a monumental offense, when it is God's desire; to respond in disobedience is to find ourselves in sin. Is there a "God given" that you know you don't need to pray about but you still have not aligned your life to it?
Cause me to do thy will oh Lord.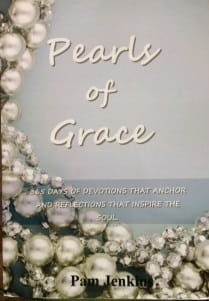 Pearls of Grace Devotional Book
Pearls of Grace is a book of devotions for the entire year, including a read through the Bible in a year calendar, broken down for every day. Beautifully written with encouraging words of hope and empowering words of joy and strength for every woman. Pam draws from the truth and richness of God's Word and gives real life examples in her down to earth style. A must have in your library, click here for more information.
For more from Pam Jenkins and Jabbok Ministries, please visit www.jabbokministries.com!
Listen to Pam Jenkins's daily broadcast on OnePlace.com.
Originally published Wednesday, 09 February 2022.