February 6
The Fullness of God
"…to know the love of Christ, which passeth knowledge, that ye might be filled with all the fullness of God."
From the time we are born a pursuit begins for our soul; a driving force of unstoppable love intent on securing us for all eternity. This love is born out of sacrifice, resilience and passionate force of unconditional loyalty: All of God given to all of mankind. God doesn't give part of Himself to one and then another part of Himself to another. Because He is God, He can and does impart all of Who He is to each of us. It's an amazing strength that God has to be able to do this and one that our minds will never be able to fully grasp this side of Heaven. You and I have all of Who God is. He is not a part time God or a partial God! He never distributes Himself into the lives of His children piece by piece. The fullness of Who He is has been freely and lavishly extended to each and every one of us because it is God's heart that we are fully His.
Everything that God wants us to give to Him, He has first given from Himself to us. We have a God who is a living example before us even sending His only Begotten Son to walk and live among us that we might know Him and long to surrender every part of ourselves to every part of Who He is. This is the love of Christ which passes all knowledge. In other words, it can't be learned it had to be revealed! When we bow our heart and our very life to this truth, to this understanding of Who God is and what He has done to reveal His love to us, then we have the capacity to receive His fullness. God doesn't want us to settle for anything less than having His fullness because this would do Him a great injustice. It's easy to run behind our inabilities and even our situations and wave the white flag of surrender becoming the prisoner of our failures. When our eyes focus upon our circumstances or upon our weaknesses then God becomes weak and distant.
When our very lives are enveloped and anchored in this truth, then and only then can we receive the fullness of God. This is the answer to emptiness that so many of us struggle with day in and day out. But God never intended for us to live in this state of hopelessness. There is a filling that the very heart of God longs to give to us and Heaven will never wave its white flag of surrender until it has accomplished the will of the Almighty. You see, God is a relentless Father Who runs hard to lay hold of His child. We can't outrun Him. We can't hide from Him but we can deny Him. Have you given in to a lie by allowing your situations to dictate your faith in God even whispering to your heart that God is not enough?
Every time we refuse to believe the truth of Who God is and What He has done, then we are denying Him the right to be God in our life. Have you denied your Heavenly Father the right to be God…your God? Have you rejected His fullness by caving into a hopeless situation? Do you believe God is enough…more than enough?. Are you missing out on the abundance of a mighty God who sits in the Heavens upon the throne of rule? Run into Him today and fall into the love of Heaven's arms and there cradled in God's all sufficiency surrender your heart, emotions, fears and emptiness. When this happens you will soon hear the flowing waters of life begin to pour from Heaven's throne into the very recesses of your heart and mind not stopping until it has completed enveloped the need of your present circumstances. He longs to give you His fullness; for your heart to belong fully to all that He is. He will not disappoint!
Emptiness is never supplied by God.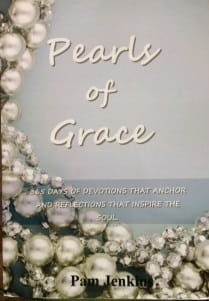 Pearls of Grace Devotional Book
Pearls of Grace is a book of devotions for the entire year, including a read through the Bible in a year calendar, broken down for every day. Beautifully written with encouraging words of hope and empowering words of joy and strength for every woman. Pam draws from the truth and richness of God's Word and gives real life examples in her down to earth style. A must have in your library, click here for more information.
For more from Pam Jenkins and Jabbok Ministries, please visit www.jabbokministries.com!
Listen to Pam Jenkins's daily broadcast on OnePlace.com.
Originally published Sunday, 06 February 2022.