February 5
Sacred Seasons
"For the vision is yet for an appointed time, but at the end it shall speak, and not lie: though it tarry, wait for it; because it will surely come, it will not tarry."
There are sacred seasons when I believe we are so keenly aware of God's presence that our hearing is drawn into a supernatural communication with the Almighty. It's an appointed time when Holiness bends near to whisper to the heart of His child of things to come; a time when God draws back the veil of the future to give us hope and align our purpose for living. The details may be hidden but the picture as a whole is framed before our eyes for our heart to feast upon the faith needed to look ahead with great anticipation. When God allows us the rare glimpses through the eyes of the mind, we have two choices immediately placed before us; push forward with the excitement of the flesh to make it happen or we can sit back and ponder the words of God waiting for Him to bring these promises to pass. Impatience is the enemy of faith; they are at war with one another.
God, speaking through the prophet Habakkuk, boldly proclaims two things that we should honor when God has given us a revelation: First, we are to understand that God has an appointment book, a holy sovereign schedule that is progressing at God's pace with perfection unknown to us. He does not get in a panic. He will not be prompted to rush ahead and He does not look at the outward situation no matter how hopeless they appear. He is moved by Heaven's timelessness not earthly clocks. Things might look right to us but God's timing is much more precise and absolutely perfect in bringing the season of beauty that only comes as a result of God's Heavenly calendar. He's the master planner, precious one, and His timing is flawless. We must trust that our Father really does know best. Trust illumines our future with the radiance of His purpose yet to be fulfilled. Where there is a future, there is hope.
Second, we are to learn to "wait" even though the Lord tarries. The prophet spoke for the heart of God proclaiming; "don't grow impatient even if God tarries in fulfilling His word to you". This is God's danger ahead sign for us when we grow weary of waiting. Impatience creates a fork in the road by our flesh which says: "My Way…make it happen" or "God's Way….taking too long". Our flesh will choose our way in order to make it happen. We not only will interfere with what God is doing, but we declare to the entire world that God doesn't know best and His way is not perfect! Impatience will cause us to miss God's best. If you are at a cross road today because you have grown weary in the waiting, then heed the words of Habakkuk; "wait for it"! Don't run ahead of God, beloved because it will only end in misery. When we allow Him to bring about His plan, in His way and in His time, He gets all the glory and our faith is empowered.
Maybe you have been waiting for years and it's been difficult at times and the enemy has assailed your faith with doubts and fear that God has forgotten about you. But resounding upon the pages of Holy Scripture are the promises of God to His children. Trust and wait on Him. Whether it's the salvation of a spouse, a wayward child, deliverance needed, a healing promised, or a raising of those things that are dead, wait beloved, trust, and have hope in your God. God's promises are as sure as the rising sun, they will soon come, precious child of God and the faithfulness of God will soar above every obstacle, bring low every mountain, bridge any darkness until the light of His plan unfolds before eyes of flesh. These are sacred seasons in life, workings of God that will imprint the very image of Himself into your soul all the while cultivating a stronger faith for the days ahead.
Though You Tarry, Yet Will I Wait In Full Confidence That It Will Come To Pass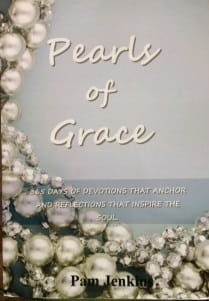 Pearls of Grace Devotional Book
Pearls of Grace is a book of devotions for the entire year, including a read through the Bible in a year calendar, broken down for every day. Beautifully written with encouraging words of hope and empowering words of joy and strength for every woman. Pam draws from the truth and richness of God's Word and gives real life examples in her down to earth style. A must have in your library, click here for more information.
For more from Pam Jenkins and Jabbok Ministries, please visit www.jabbokministries.com!
Listen to Pam Jenkins's daily broadcast on OnePlace.com.
Originally published Saturday, 05 February 2022.