February 26
The Master Builder
"Therefore encourage one another, and build up one another, just as you also are doing."
I Thessalonians 5:11
The building process is no small thing. Once the concept is birthed it is then carefully designed with skilled engineering and architectural ability. With masterpiece in hand, the builder will seek out the perfect location to see his vision become a reality. Untold hours of planning and waiting, attending to every detail ensuring it's construction is according to the design, meeting each and every expectation of, not the builder but the owner whom he works for. Building is challenging, heart wrenching, frustrating, demanding, costly and it's lengthy requiring great patience and commitment. But when the structure is finished and the designer, the owner and the builder all stand gazing at the beauty of the completion, it is glorious. And at that moment sheer satisfaction of a job well done arises and fading from view is all the effort, all the blood sweat and tears that made it possible. It's the beauty of the finished product that spurs the heart of the master builder.
Encouragement is compared to the faithful builder. Every uplifting word thought out with great care and each act of kindness selflessly planned out to make sure the recipient is lifted up and strengthened in the inner man. We are never to tear down a child of God even if we think it is necessary. God instructs very clearly concerning the Church, the bride of Christ; we are to be builders not demolitionists. Tearing down is careless and requires no effort or forethought. It operates with a reckless mentality having no care of others. To encourage is exactly the opposite; it requires great care and intentional acts. Everything is motivated by love with the purpose of causing another to succeed spiritually. Encouragement is not found apart from selfless living.
Every one of us has a circle of influence every day of our lives. Some of our circles are constants such as our family, neighbors, friends, co-workers, church family because we have access to them usually on a regular basis. But we also have temporary circle of influences that God gives us every day we head out into the world. It could be the postman passing by, a shopper in the line next to you, the attendant you pay at the gas pump or convenient store, the pharmacist, the receptionist at the dentist office, the person who takes your picture at the driver's license renewal center, the police officer who pulled you over, the child peering at you through the clothes rack at the store, the nurse drawing your blood, or TV repair man you had to call out. The list is endless beloved and so are the possibilities to build up countless lives. Sometimes the strongest encouragement is given without words. It could be through a smile, holding a door open, a pat on the back, taking hold of the hand of another, applause for a job well done, or even a gentle nudge to take a step forward.
Encouragement is at times loud, other times it's a quiet as a whisper and sometimes it's completely silent. Either way, encouragement is the tool that the Master Builder has chosen to build the lives of his people into the temple that He wishes for them to be. Simply said beloved, we are temple builders working for the One Who intends to occupy every square inch of them. God looks at what can be and uses us to get it done! How are you doing in the building process precious one? Are you a demolitionist or are you a builder?
I will be a temple builder that it may bring glory to Thee.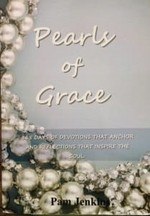 Pearls of Grace Devotional Book
Pearls of Grace is a book of devotions for the entire year, including a read through the Bible in a year calendar, broken down for every day. Beautifully written with encouraging words of hope and empowering words of joy and strength for every woman. Pam draws from the truth and richness of God's Word and gives real life examples in her down to earth style. A must have in your library, click here for more information.
For more from Pam Jenkins and Jabbok Ministries, please visit www.jabbokministries.com!
Listen to Pam Jenkins's daily broadcast on OnePlace.com.