February 22
Trusting God Through Difficult Passages
"…and the LORD swept the sea back by a strong east wind all night, and turned the sea into dry land, so the waters were divided. And the sons of Israel went through the midst of the sea on the dry land, and the waters were like a wall to them on their right hand and on their left."
Little Hebrew children, no doubt, snuggled down in their beds at night listening to great stories of Jehovah and how He had delivered His people out of the hands of many powerful enemies. The parting of the Red Sea was, by far, one of the greatest acts the Israelites would witness to the power of God in their lifetime. God had just freed them from the bondage of the Egyptians, through many signs and wonders and now they were trapped between a raging sea and the Egyptian army. They were no match against such skilled warriors with their chariots and spears. What were they to do? Why would God deliver them from bondage only to allow them to be killed in their freedom? God was teaching His leader and His people to trust Him even in impossible situations, even when they did not understand why.
God will rip out our escape hatch leaving us absolutely vulnerable to the enemy to show us that He is able to deliver even when there is no way of escape! Impossible passages are God's specialty and they are carved out to show His glory, not only to His children but to their enemies as well. The Israelites weren't the only ones who saw the waters parted that day; the Egyptians did too. Listen to what happened when they pursued God's people; Exodus 14:24-25 tells us, "And it came about at the morning watch, that the LORD looked down on the army of the Egyptians through the pillar of fire and cloud and brought the army of the Egyptians into confusion. And He caused their chariot wheels to swerve, and He made them drive with difficulty; so the Egyptians said, 'Let us flee from Israel, for the LORD is fighting for them against the Egyptians.'"
The wonder of the parting of the great waters is not what God wants us to see here, although it's marvelous and powerful on the part of God; He wants us to see that it is He Who delivers and none can contend with Him. He is mighty to save beloved! Mighty to save! It must have been such a fearful walk through the wall of water, something they had never seen before. There would be no explanation for this except for the hand of God and this is exactly what God wanted. Before they could enter into war for new lands, they would need to trust in God for their deliverance in the old land, and trust that He would fight for them.
Sometimes, beloved, we cower in unbelief in our difficult places because we do not trust God to bring us through. It's not so much that we believe He can't but rather we don't believe He will. Ralph Waldo Emerson once said; "Because of all that I can see about God, I know that I can trust Him in the things I cannot see". Trust that is built through the difficult passages will be your faith source to draw from in the ones to come. When Moses reached the end of his life, he was able to stand before his successor and the next generation and say, "…the Lord is the one Who goes ahead of you; He will be with you. He will not fail you or forsake you. Do not fear, or be dismayed." (Deuteronomy 31:8)Moses could say this because he had lived it, he had tried the Lord and He found Him to be ever faithful. Praise may be sung in the day but it is written in the night. Jesus said,"What I tell you in the darkness, speak in the light; and what you hear whispered in your ear, proclaim upon the housetops." (Matthew 10:27)
Lead me through Lord and exalt your name in the passage.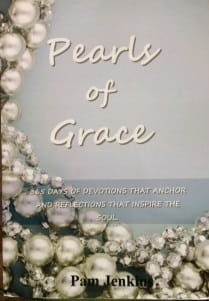 Pearls of Grace Devotional Book
Pearls of Grace is a book of devotions for the entire year, including a read through the Bible in a year calendar, broken down for every day. Beautifully written with encouraging words of hope and empowering words of joy and strength for every woman. Pam draws from the truth and richness of God's Word and gives real life examples in her down to earth style. A must have in your library, click here for more information.
For more from Pam Jenkins and Jabbok Ministries, please visit www.jabbokministries.com!
Listen to Pam Jenkins's daily broadcast on OnePlace.com.
Originally published Tuesday, 22 February 2022.