December 6
Ancient Lines
"Do not move the ancient boundary, which your fathers have set."
We do well to listen to the past before we look to the future. Ancient boundaries drawn by the conscience of our forefathers, set to keep us within the wisdom drawn from the past are God's securing force of protection from our own destructive vices. These sacred lines are our inheritance left to us by our founding fathers. They willed them to us knowing, they would keep us and guide us in the ways of God. Their words have been tried and tested for they have lived them and they have plowed the fields of the earth with them and seen the yield of their truth.
If we bend our ear low to the earth, and ready our hearts to listen, even now we would hear their voices uttering words of life unto their children; "Do not move the ancient boundaries." Woven into these ancient words, is the warning of permanence for these boundaries were "set" for the children that were to come. They were placed intentionally and with the future in mind. Looking ahead, they drew each line in order to hold us through the trenches of challenge, the perils of error, and the enticement of sin. Each line etching out a path that cries, "here's the way, walk ye in it." We cannot extend these boundaries because of changing times, varying beliefs, religious leaders, changing political party lines, excuses for freedom, justified sin, new scientific discoveries, or altering doctrines. These boundaries are fixed, and they are settled in Heaven.
In an age where truth is a personal choice, and a deciding definition to give allowance for the present, we have never needed our ancient boundaries more. We need to look no further than our heart to see where we are, and no closer than our conscience to see how far we have strayed. A life that is given no absolutes, will peddle all it has upon the pleasures of life only to find emptiness in the end. Seize the ancient boundaries that were given to us by God through the lives of His faithful servants. In ancient wars soldiers were placed in lines even when faced with incredible odds of sure devastating losses. A shout was heralded so all could hear as the enemy approaches, "Hold the line…don't break the line." Even when outnumbered, many an army has won the battle simply because they refused to break the line.
Honor the ways of God by remaining within these ancient boundaries and upholding them when another tries to break the line. These lines were never to be broken, beloved. We are never more vulnerable to the enemy than when we break the line. These God lines are the stability of our times. (Isaiah 33:6) Though a thousand may fall by our side we must hold steady till morning light, unwavering in our convictions, remembering who drew the lines we now defend.
Hold the line until the enemy is no more.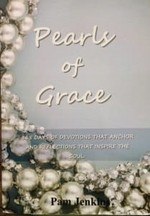 Pearls of Grace Devotional Book
Pearls of Grace is a book of devotions for the entire year, including a read through the Bible in a year calendar, broken down for every day. Beautifully written with encouraging words of hope and empowering words of joy and strength for every woman. Pam draws from the truth and richness of God's Word and gives real life examples in her down to earth style. A must have in your library, click here for more information.
For more from Pam Jenkins and Jabbok Ministries, please visit www.jabbokministries.com!
Listen to Pam Jenkins's daily broadcast on OnePlace.com.