December 25
Eternity Came Down
"Behold, the virgin shall be with child and shall bear a Son, and they shall call His name Immanuel, which translated means, 'God with us.'"
There is a story that is told of a faithful postman that lost his wife a few months before Christmas. He grieved over the loss of his wife for months hoping his tears would stop, but try as he may he could not seem to get relief from his hurting heart. Everything reminded him of her, and with Christmas coming he couldn't bear the thought of him and his son going through the holidays without her. His little boy would often climb up in his daddy's lap, squeeze him as tightly as he could and tell him, "Daddy, I just want you to be happy again." His dad's response was always the same, "I just want eternity to come so I can be with your mother again." Trying to ease his pain, he poured himself into his work, staying late at the post office every night. He found solace in reading the letters that came through that were marked: Dear Santa. He would look at each envelope to see where it had come from before placing it in the bin marked "North Pole". One day as the postman was sorting the Dear Santa letters, he noticed on one that the return address was his own. Curious to see what was written, he opened the letter to read these words; "Dear Santa, I only want one thing for Christmas this year. You see, my mommy died and ever since, my daddy can't stop crying. So, will you please bring eternity to our house so he will be happy again?"
Eternity did come, beloved, but it would not come from the wish list of man, but from the very wish list of God Himself. The greatest desire that we could ever seek to fulfill would be to find eternity. He set a yearning for home within us, a restless heart that will never find fulfillment apart from knowing God and from being where He is. So, God in all of His goodness and love for you, and for me, sent eternity down to us through the birth of His only begotten Son, full of grace and truth. He is God's invitation to the world to come home. He came not in royal apparel or marked in splendor, but He came to a lowly manger, wrapped in swaddling clothes. God's greatest gifts are not found in the high and lofty places, but they are discovered in the lowly and ordinary.
Eternity is God's boundless gift to every one of us, no matter how vile we are, how lost or how lowly; how utterly destitute. It is free, it is full and it is for all. Eternity is written across every heart, and engraved upon every soul, for thus God has created us so. If we were created for eternity, precious friend, then we are to live for eternity, for those things that will live beyond the grave. Run to the manger God has placed before you, and there He has placed the One Who will meet your every need.
Happy Birthday King Jesus!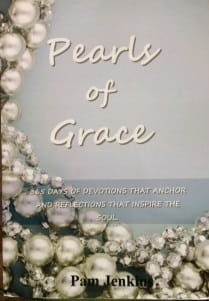 Pearls of Grace Devotional Book
Pearls of Grace is a book of devotions for the entire year, including a read through the Bible in a year calendar, broken down for every day. Beautifully written with encouraging words of hope and empowering words of joy and strength for every woman. Pam draws from the truth and richness of God's Word and gives real life examples in her down to earth style. A must have in your library, click here for more information.
For more from Pam Jenkins and Jabbok Ministries, please visit www.jabbokministries.com!
Listen to Pam Jenkins's daily broadcast on OnePlace.com.
Originally published Saturday, 25 December 2021.