December 16
Bringing God Near
"Draw near to God and He will draw near to you."
We are given here a remedy for the soul who is far from God. An ancient secret so commanding that it rouses the great I AM, the Holy One, the Lord Almighty, Creator of Heaven and Earth, to descend from His chamber that He might wrap His presence around the child who has set his heart to be close to Him. It's a journey birthed out of desperation that will take no rest, a hunger of the soul that refuses to be satisfied, a fire in the marrow of the bone that will not be quenched until it has found audience with the only One that can fulfill its every longing. It's the soul that knows its home is found only in the arms of God, so it hastens onward, relentless in this pursuit until it can abandon itself there. The heart of a child finds contentment when it is snuggled up close to the breast of the one who gave it life.
This knowledge becomes the very heartbeat of those who embrace the unfailing promise of God that He will draw near to those who draw near to Him. Draw near means: "to join yourself to another, to approach, to turn your thoughts toward or to become more acquainted with." It's a compelling gift that God delights Himself to give to every child of His. He waits with great anticipation, longing for the presence of His children. He doesn't hesitate to respond to us when we turn our thoughts toward him, when we seek to know Him more, or to be joined together with Him in holy union. God sets a standing appointment with every heart that sets out to be near Him. He is there, and He is faithful to answer by setting His thoughts back toward that one, to join Himself together with them in sweet fellowship.
Who would not be so compelled to take advantage of such a magnificent promise? What soul would pass by the opportunity to bask in the presence of the One Who has been, Who is and Who will always be? Is your soul in need of wisdom? Then draw near to the One Who is wisdom. Do you need love? Then set your affections upon the One Who is love. Are you in need of peace? Then fall at the feet of the Prince of Peace. Do you long for purpose? Then set out to know the One Who fashioned you and numbered every one of your days before there was yet one of them. Does your soul hunger for acceptance and forgiveness because all has abandoned you? Then discover Jesus, the One Who gave His life for you and cleanses you from every stain, the One Who will never leave nor forsake you. Are you in need this hour for anything, beloved of God? Do you long for more of Him? Then draw near and set your thoughts toward God and everything else will be swept away in His presence as He floods your life with Himself.
Give Me Uninterrupted Dialogue With You God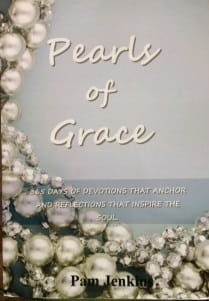 Pearls of Grace Devotional Book
Pearls of Grace is a book of devotions for the entire year, including a read through the Bible in a year calendar, broken down for every day. Beautifully written with encouraging words of hope and empowering words of joy and strength for every woman. Pam draws from the truth and richness of God's Word and gives real life examples in her down to earth style. A must have in your library, click here for more information.
For more from Pam Jenkins and Jabbok Ministries, please visit www.jabbokministries.com!
Listen to Pam Jenkins's daily broadcast on OnePlace.com.
Originally published Thursday, 16 December 2021.