August 3
Living to Die
"No servant is greater than his master, if they persecuted Me, they will persecute you also."
To follow Christ in all things even if the path leads to death is the calling of the cross. See how great a cloud of witnesses surrounds us to answer yes to this radical commitment as a faithful servant. The apostle James was beheaded in Jerusalem, Matthew was pinned to the ground on his back and beheaded in Ethiopia; the apostle Andrew was crucified in Achaia, Doubting Thomas was tortured by the natives in Calamina, thrown into an oven, and pierced through with spears. Luke was hung from an Olive tree in Greece, Peter was hung upside down crying he was not worthy to be crucified in the same manner of his Beloved Savior. John was boiled in a cauldron of hot oil and exiled on the Isle of Patmos to live out the remainder of his days. Graham Staines and his two young precious sons, Timothy and Philip were brutally beaten in their car and stabbed before burning to death inside. Their three charred bodies were found locked in tight embrace as they went home to be with their beloved Jesus whom they served by ministering to the lepers in India.
The list, beloved, goes on and on of the faithful heroes of the faith who have left a trail ablaze for the glory of God by their lives and in their deaths. Men and women of whom the world was not worthy of! Even now their lives beckon us to run the race set before us in all endurance with full assurance of hope until the end, no matter the cost. The truth concerning persecution is this; it will never cease until the war upon this earth is over. Persecution will continue to be a present force of evil in the lives of His Godly ones until the very end. At this present hour there are those who are still being persecuted for the sake of Christ, many in death, beatings, stoning and imprisonment. More Christians have been martyred in this century than in all previous centuries and yet often times the non-persecuted Christians are out of touch with the reality that persecution still exists and have fallen prey to the destructive powers of complacency.
Harold J. Chadwick who re-wrote and updated Foxe's Book of Martyrs wrote these words in the forward, "could we, with our soft and self-serving modern Christianity, follow their examples of such courage and love for Christ that we would suffer being tortured, mutilated, and burned alive rather than recant our faith in Him? There are thousands of Christians around the world today that answer with a resounding "Yes!" But what is your answer to that question?"
The true martyr doesn't just follow Christ in his or her death but with their very lives, every day. Do you have the heart of a martyr beloved? Would you be willing to ask God to give you this attitude which was also in Christ Who"humbled Himself by becoming obedient to the point of death, even death on a cross". (Philippians 2:8) A trail of faith has been left ablaze for us to follow. It will be worth it precious one, it will be worth it!
Make me thy living martyr Oh, Lord.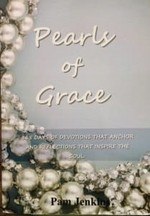 Pearls of Grace Devotional Book
Pearls of Grace is a book of devotions for the entire year, including a read through the Bible in a year calendar, broken down for every day. Beautifully written with encouraging words of hope and empowering words of joy and strength for every woman. Pam draws from the truth and richness of God's Word and gives real life examples in her down to earth style. A must have in your library, click here for more information.
For more from Pam Jenkins and Jabbok Ministries, please visit www.jabbokministries.com!
Listen to Pam Jenkins's daily broadcast on OnePlace.com.
For more from Pam Jenkins and Jabbok Ministries, please visit www.jabbokministries.com!
Listen to Pam Jenkins's daily broadcast on OnePlace.com.