August 17
Enemy or Foe
"He who is not with Me is against Me; and he who does not gather with Me, scatters."
Are you with Jesus? Are you gathering with Him? This verse leaves us with one question, enemy or foe? It's safe in saying that Jesus didn't have a lot of friends but He sure had a lot of enemies? This verse gives us a glimpse as to why. Some enemies of Jesus are more obvious than others. We usually think of those who are enemies of Jesus as being outspoken against the Gospel, attacking and persecuting other Christians, or spreading a contrary Gospel. But Jesus tells us that if we are not with Him then we are against Him. The word "with" that is used here, gives the idea to be along side of, hand in hand with, agreeing with or serving the same purpose as. If we are not with Him we are against Him! Against means going your own way, serving your own interests.
When we make our own decisions, not taking the time to consult with the Lord, we are not WITH Him. When we take the path we want then we are not WITH Him. When we are living for those things that interest us we are not WITH Him. When these attitudes are present in our lives then we are counted as one who is striving against the Lord. There is a union missing on some level of our walk and obedience. You cannot be WITH Jesus and go your own way! Independence of Jesus draws the battle line precious one, you on one side and He on the other.
Jesus also tells us that the one who does not gather with Him scatters. The word scatters means to live impulsively, to jump from one thing to another, a person who is unstable. How easy it is to scatter rather than gather when living in a world that has so many temptations of the flesh. Everything sparkles and glitters appealing the body to dive right in and worry about the consequences later. Gathering with Jesus is purposeful, intentional living, never through impulsive decisions or out of emotional moments. It is a decision that is made with forethought and commitment unto the end. It's a choice of obedience unto the leading of the Holy Spirit and a heartfelt following of Jesus no matter where He may lead.
We live in a very impulsive generation because we are flesh driven. We want things our way on our timetable for ourselves. We do not place the Lord's interests ahead of our own but rather the we place the Lord's interest at the back of the line. Our flesh will never be a friend of the Lord and it will never seek His way. Maybe you are struggling today with what the Lord wants verses what you want; or your way over His way. If this is you, then I say as the Lord would say, "Choose you this day whom you will serve". We cannot serve two masters or dwell in peace in the valley of decision.
I want to be found standing side by side with Jesus, hand to the plow, elbow to elbow working the fields of His harvest. Lift not your eyes to worldly pleasures but set your affections on things above beloved and in that day you will be counted as a friend of the Living Lord. I pray that when you stand before the Lord you will be found clean, unpopular, not self-seeking, selfless, unknown and unsuccessful in the world's eyes; empty handed and poured out unto the work of the Lord. Are you His friend or are you His foe? 
I'd rather have Jesus.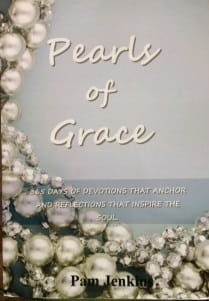 Pearls of Grace Devotional Book
Pearls of Grace is a book of devotions for the entire year, including a read through the Bible in a year calendar, broken down for every day. Beautifully written with encouraging words of hope and empowering words of joy and strength for every woman. Pam draws from the truth and richness of God's Word and gives real life examples in her down to earth style. A must have in your library, click here for more information.
For more from Pam Jenkins and Jabbok Ministries, please visit www.jabbokministries.com!
Listen to Pam Jenkins's daily broadcast on OnePlace.com.
For more from Pam Jenkins and Jabbok Ministries, please visit www.jabbokministries.com!
Listen to Pam Jenkins's daily broadcast on OnePlace.com.
Originally published Wednesday, 17 August 2022.