April 5
Precious In His Eyes
            "Since you are precious in My sight, Since you are honored and I love you…"
God puts great value upon the lives of His children.  He esteems humanity as important having great worth in His eyes.  After all, He is the Creator and upon humanity He imprinted the image of the Holy Trinity.  This in and of itself institutes that every human life has untold worth in the eyes of God.  He established this price at creation and this value is still in place today.  This is why God has never been able to tolerate violence or senseless killing and defaming of life.  Life is precious in His eyes…all life…all races…all people groups.   Every human being is cherished by God in its created existence.  And because God has placed worth upon each life then a respect and protection is demanded.  We cannot treat another human being as we want because they are all hand crafted by God Himself.  Each life is a masterpiece of the master Himself and it is His touch, His mark upon the artistry that makes the piece invaluable. 
How do you see others?  And more importantly how do you see yourself?  What value have you removed or placed upon another, or even yourself?  Have you ever removed God's price tag upon our life or the life of another based upon their performances or failures?  Have you ever changed God's price tag upon the life of someone else because they did not measure up to your standards or because they disturbed your preferences?  Has the disturbance of another's actions altered your view of them in some way?  How do you place value on another?  What does someone have to do in order for you to consider them important or even beautiful?  What value have you placed upon your own head and why? 
We are not only our own worst critic, but oftentimes a critic to others as well.  But I struggle with wondering how we ever thought that the value of self or someone else was ever ours to determine?  Nowhere in Scripture will we find God allowing or asking us to determine the value of a soul or someone's life.  Only the Creator has the right to price His artwork.  It's God's pricing that makes us secure in life and stabilizes us when others belittle or demean us.   When we understand God's pricing system then we can believe in the value of all human life, including our own.
Pride will dethrone God in order to enthrone itself.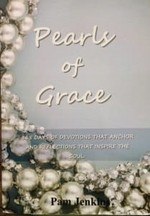 Pearls of Grace Devotional Book
Pearls of Grace is a book of devotions for the entire year, including a read through the Bible in a year calendar, broken down for every day. Beautifully written with encouraging words of hope and empowering words of joy and strength for every woman. Pam draws from the truth and richness of God's Word and gives real life examples in her down to earth style. A must have in your library, click here for more information.
For more from Pam Jenkins and Jabbok Ministries, please visit www.jabbokministries.com!
Listen to Pam Jenkins's daily broadcast on OnePlace.com.
For more from Pam Jenkins and Jabbok Ministries, please visit www.jabbokministries.com!
Listen to Pam Jenkins's daily broadcast on OnePlace.com.