April 14
Prophetic Utterances
"do not despise prophetic utterances"
I Thessalonians 5:20
She stood there in holy reverence as she handed me a folded piece of paper.  The words on the paper were written by her hand as she received from the heart of God to pen for me.  They read:  "You are God's morning glory.  You are opened to His light, and closed off to darkness.  His light is a shield around you."  This precious sister in the Lord had a beautiful gift that God had given her, the gift of prophecy.  She was shy and hesitant to share this with me, but with relentless prodding by God she did.  As I read these words, tears filled my eyes for I knew that they were words from my Father, not my sister in the Lord. She was only the messenger delivering the message. I was the blessed one that had the awesome privilege of receiving it from my Lord.   
She did not know that I needed to hear these words.  I had been through a great valley of suffering and now that I believed it was over, I still had doubts as to God's goodness and blessings in my life.  I wanted to know that He still had His shield around me and that I was protected from the powers of darkness that had come so close to destroying my life.  And lastly, I had sought God for the glory that comes when the night is over.  This had been my prayer in my quiet time, my secret wrestlings with God.  Had He heard me? It seemed as if heaven were silent and I waited patiently on the Lord to answer me.  Weeks had passed by and my soul was desperate to know if the battle was finally over that I had endured for so very long.  
Then, through this woman, this precious saint of God, came a message penned by her hand but spoken by Him.  He had answered His child and gave the assurance she needed.  In God's perfect way, He answered in a way that I would know without a shadow of a doubt that it was Him and it was for me.  This sweet sister had no idea what the Father and I had been speaking about, yet she delivered His answer.  God will send messages to His children in His way and in His time.  His Word tells us not to despise these prophetic utterances.  I realize not every message is from Him, but I do believe when it is from Him we will know it because His sheep know His voice!  I knew that day it was Him speaking because I recognized His voice even through the words of another. 
Would you recognize His voice, beloved?  Do you know that God speaks through His Word, but He also at times will speak through another?  Listen for Him speaking today that you will not miss what He wants to say to you.  It could be the answer you've been waiting for.  Tune in to God, precious one, and take His word in. 
Speak, for Thy servant is listening.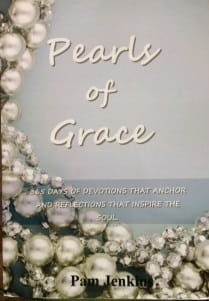 Pearls of Grace Devotional Book
Pearls of Grace is a book of devotions for the entire year, including a read through the Bible in a year calendar, broken down for every day. Beautifully written with encouraging words of hope and empowering words of joy and strength for every woman. Pam draws from the truth and richness of God's Word and gives real life examples in her down to earth style. A must have in your library, click here for more information.
For more from Pam Jenkins and Jabbok Ministries, please visit www.jabbokministries.com!
Listen to Pam Jenkins's daily broadcast on OnePlace.com.