April 12
Greater Things Are Yet To Come
"This will be written for the generation to come; That a people yet to be created mayl praise the LORD."
Living in the past will deprive us of our future by pilfering us of the present.   Hopelessness is beat out upon the threshing floor of history as we bundle together our hurts and failures. The future is always bleak when we look through the darkness of our past.  When we walk in despair, we'll stumble through life believing that nothing good will come of life.  We have a default button that sends us automatically to gloom and despair land when we surrender our praise to circumstances.  Life can bog us down when we trample underfoot all the "what ifs" and "if onlys".  It's a waste of energy and precious time that we can never replace.    
When I was in one of the lowest times of my life, I remembered thinking, if this is all there is then I might as well give up now, roll over and die.  I thought my future was over because of the present.  But God works in the future, beloved.  Our past or our present can neither amputate nor dictate our future.  The most liberating truth that God has revealed to me is that He works in my present in order to satisfy my past that He might secure my future.  Because God is all about the future.  He doesn't linger in the past and He isn't stuck in the present.  His eyes are forward on the distant horizon knowing that joy is coming in the morning.  He is a positive force in the lives of His children prodding them to look forward not behind.  The present is only a stepping stone to the future and the past is the wind behind us.    
God says greater things are yet to come/  Just ahead are greater things for every child of God.  Praise God today and you'll be secure in Him tomorrow.  Praise is good for the soul and it lifts the spirits to heights above every situation no matter how bleak, how hopeless.  He is bringing about greater things that we could never even begin to imagine.  We must choose to believe God for greater things and refuse to use our past as a measuring rod for our future.  Where are you today, beloved?  Are you lingering in the lowlands of the past, or are you bogged down in the miry clay of today?  Give it all to God and praise Him for your future.  Praise for the future will deliver you from the regrets of the past.
I am looking for greater things.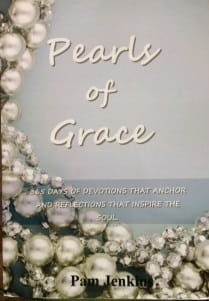 Pearls of Grace Devotional Book
Pearls of Grace is a book of devotions for the entire year, including a read through the Bible in a year calendar, broken down for every day. Beautifully written with encouraging words of hope and empowering words of joy and strength for every woman. Pam draws from the truth and richness of God's Word and gives real life examples in her down to earth style. A must have in your library, click here for more information.
For more from Pam Jenkins and Jabbok Ministries, please visit www.jabbokministries.com!
Listen to Pam Jenkins's daily broadcast on OnePlace.com.
Originally published Tuesday, 12 April 2022.