April 10
Giving God Your Best
"Now to Him that is able to do exceeding abundantly beyond all that we ask or think, according to the power that works within us…"
How commanding are the words; "Now to Him that is able"!   We serve a God who is beyond anything we could ever comprehend even in our wildest imaginations.  He is unassailable, extraordinary in all He does and there is no boundary to confine His work, no force to restrain His hand.  He is not constrained by the inadequate strength of man nor can He be explained by the tongue of man.  God does nothing halfway, He is an "all the way" God and beyond!  If He is not ordinary, then neither are His children to be.  While it's true we are but clay, we were created in the image of God, the One who is extraordinary!  He is what makes us unique.   Because we were wrought in the depths of splendor and extraordinary beauty then we are as far from ordinary as we can be.  It is His mark upon us that sets us apart, nothing else.  
Because He is who He is, we are to make a marked decision to be like Him in all things.  When we choose not to be what God intended for us to be we are making a striking decision to be common, to live ordinary, having no distinction from the world and those who are of the world.  Because of my origin and because of who God is I cannot settle for commonplace but resound with the apostle Paul; "Now unto Him."  Because He is able, then we are able, because He does exceedingly abundantly in power and might, then we are to excel abundantly in all He has called us to do through His power that works within us.  Our extraordinary God captivates us unto Himself, and then fills us with all of Him that we might be free to live supernatural lives.  
Mediocrity is sin for the child of God and commonplace has no place in your life!   God deserves nothing less than our all, nothing less than the grand and glorious.   We should not serve small, beloved, because we do not serve a small God.  Don't be content to be average because you do not serve an average God.  We need to be daring in our faith and stretch ourselves into the mighty realms that God has appointed for us.   Living in the supernatural is believing God for all things and not trusting in ourselves.   If our goals fit into the world's goals, then they are not God's.  Because we are an uncommon, unique people, we must have exceptional lives.  You belong to the One true living God who does no ordinary things, and His greatest accomplishment is you.  Don't settle for commonplace.  Guard your heart against complacency and step out in bold faith to do great things for God. 
Live out loud!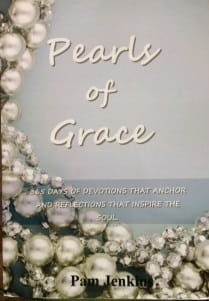 Pearls of Grace Devotional Book
Pearls of Grace is a book of devotions for the entire year, including a read through the Bible in a year calendar, broken down for every day. Beautifully written with encouraging words of hope and empowering words of joy and strength for every woman. Pam draws from the truth and richness of God's Word and gives real life examples in her down to earth style. A must have in your library, click here for more information.
For more from Pam Jenkins and Jabbok Ministries, please visit www.jabbokministries.com!
Listen to Pam Jenkins's daily broadcast on OnePlace.com.
Originally published Sunday, 10 April 2022.