June 26, 2019
Where Are You Looking?
Gwen Smith
Today's Truth
Yet I am always with you; you hold me by my right hand. (Psalm 73:23)
Friend to Friend
It was Corrie Ten Boom who said, "If you look at the world, you'll be distressed. If you look within, you'll be depressed. If you look at God, you'll be at rest." The text of Psalm 73 helps this truth rise vividly.
If you look at the world, you'll be distressed…"For I envied the arrogant when I saw the prosperity of the wicked." (Psalm 73:3)
They. They. They.
"They have no struggles;
    their bodies are healthy and strong.
5 They are free from common human burdens;
    they are not plagued by human ills.
6 Therefore pride is their necklace;
    they clothe themselves with violence.
7 From their callous hearts comes iniquity;
    their evil imaginations have no limits.
8 They scoff, and speak with malice;
    with arrogance they threaten oppression.
9 Their mouths lay claim to heaven,
    and their tongues take possession of the earth.
10 Therefore their people turn to them
    and drink up waters in abundance.
11 They say, "How would God know?
    Does the Most High know anything?"
12 This is what the wicked are like—
    always free of care, they go on amassing wealth."
(Psalm 73:4-12)
Jealousy is toxic, damaging, senseless and ignorant. Still, like the psalmist, we often go there.
"She's got it easy… just look at her house / car / husband / job / children / waistline!"
"Why does everything seem to go her way?"
"That woman doesn't have a care in the world! She gets to ____ while I _____ …"
"Women like her…"
"They all…"
"Why does she have…?"
Envy wrecks the hearts of humans. It stirs restlessness, wreaks havoc on our minds and renders contentment impossible. It tears down. And when the walls of hope, peace and love are torn down by envy we become distressed. Period.
If you look within, you'll be depressed…
"Surely in vain I have kept my heart pure
    and have washed my hands in innocence.
14 All day long I have been afflicted,
    and every morning brings new punishments.
15 If I had spoken out like that,
    I would have betrayed your children.
16 When I tried to understand all this,
    it troubled me deeply."
(Psalm 73:13-16)
Oh, you know… Why am I the only one who ____? There's no way I could do that. Why am I so stupid? Nothing ever goes right for me!
We complain.
We doubt.
We cut ourselves down and we sulk. When all the while, focusing on self leaves us depressed. Or at the very least, discouraged.
If you look to God, you'll be at rest…
"…till I entered the sanctuary of God;
    then I understood their final destiny.
18 Surely you place them on slippery ground;
    you cast them down to ruin.
19 How suddenly are they destroyed,
    completely swept away by terrors!
20 They are like a dream when one awakes;
    when you arise, Lord,
    you will despise them as fantasies.
21 When my heart was grieved
    and my spirit embittered,
22 I was senseless and ignorant;
    I was a brute beast before you.
23 Yet I am always with you;
    you hold me by my right hand.
24 You guide me with your counsel,
    and afterward you will take me into glory.
25 Whom have I in heaven but you?
    And earth has nothing I desire besides you.
26 My flesh and my heart may fail,
    but God is the strength of my heart
    and my portion forever.
27 Those who are far from you will perish;
    you destroy all who are unfaithful to you.
28 But as for me, it is good to be near God.
    I have made the Sovereign Lord my refuge;
    I will tell of all your deeds."
(Psalm 73:17-28)
While the mysteries of what God does and doesn't allow here on earth will never fully be understood, it seems the rest our souls long to know is found in the sanctuary. Not the sanctuary of a church building. In the sacred space of God's dwelling. In the power of His presence. 
I don't need to look around in envy.
I don't need to grumble and fret about what I have or don't have.
It's not best for me to want that woman's people, places, positions or prosperity.
I have full access to all I need in Christ, every spiritual gift and blessing. And each time a tinge of envy sparks, the peace (rest) I long for is available when I look to God.
Let's Pray

Dear Lord, Would you be the strength and focus of my heart today? It's so easy to look around and become discouraged - at times even indignant - when we see what we perceive to be prosperity in the lives of others. Help me to keep my eyes to you, and the life You've given me so Your strength, peace and eternal provision will calm my fussy, distracted and prideful heart.

In Jesus' Name,

Amen.
Now It's Your Turn
What or who are you looking at in the world that has you distressed? In what unhealthy, unholy ways are you looking within? What would it look like for you to, instead, look to God?
Write a prayer of response on the wall of my blog or on my Facebook wall. Comment on other posts. Pray for each other in the beauty of community.
More from the Girlfriends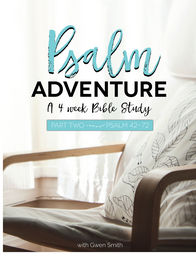 If you want to read and study the Bible, but don't know where to start, this is for you!Girlfriends in God cofounderGwen Smith has several online Bible Study options that will guide you on a personal journey with the Lord as you read, record, reflect on and respond to His Word. These studies will help you know what God says about tender topics like forgiveness, healing, fear, depression, relationships and hope. Each study can be done in the comfort of your home and in a timeframe that fits with your personal schedule. Visit www.GwenSmith.net/BibleStudy to learn more.
Seeking God?
GirlfriendsInGod.com
Originally published Wednesday, 26 June 2019.