June 18, 2019
Put Your Toes in the Water
Mary Southerland
Today's Truth
Do you not know? Have you not heard? The Lord is the everlasting God, the Creator of the ends of the earth. He will not grow tired or weary, and his understanding no one can fathom. He gives strength to the weary and increases the power of the weak. Even youths grow tired and weary, and young men stumble and fall; but those who hope in the Lord
will renew their strength. They will soar on wings like eagles;they will run and not grow weary,
they will walk and not be faint. Isaiah 40:28-31 (NIV)
Friend to Friend
Have you ever wanted to "freeze" a moment and make it last a lifetime? I have. I have also lived through certain moments that I wish I could change or even delete and pretend they never happened. But change is a natural part of life. We can embrace it, or we can fight it.
My husband often says that the only people who really like change are wet babies. However, I have discovered that some people thrive and live for change. Others dig in their heels and refuse to change a thing and ultimately become prisoners of old habits – good and bad. When it comes to change, we have a decision to make. Change is a sign of growth and life and is sometimes needed simply to survive.
God may be asking you to step out in faith and make a change in your life. He has already been where He is asking you to go. He has prepared every step of the way for you. You don't have to be afraid of the unknown. It is unknown only to you. God is well aware of where you are and of every step He is asking you to take. He may be asking you to get rid of old memories, eliminate destructive habits, and forsake lifeless traditions. He is waiting for you to take one step. Faith in God does not come all at once. Faith is a step-by-step process that begins with one small step and increases as we go. An Old Testament story found in Joshua 3 illustrates this truth.
The Israelites are camped on the bank of the Jordan River. Forty years earlier, they had escaped from Egypt and have been wandering around in the wilderness ever since. All of their needs have been met by God. They have seen miracle after miracle, and now they can see Canaan, the Promised Land. However, there is a problem. 
A huge river stands between them and the Promised Land, and there is no way around it. God told His people that He would make a dry path through the river, but the priests had never seen that happen. In fact, they hadn't even been born when the Red Sea was parted, and there were no reruns of the Ten Commandments at the local Wilderness Theatre. The Israelites had spent their entire adult lives in the wilderness, and they could finally see a way out. Oh, and one more problem -- the priests couldn't swim. This was probably the first river they had even been close to in their lives. I can imagine their fear and questions. God was asking them to step out in faith as never before. 
I don't imagine the Israelites had a great deal of faith in God at that moment, but they had just enough faith to take that first step. And that was enough.
Joshua 3:15-17 (NCV) During harvest the Jordan overflows its banks. When the priests carrying the Ark came to the edge of the river and stepped into the water, the water upstream stopped flowing. It stood up in a heap. So the people crossed over.
Notice that God did nothing until those toes touched the water. That first step was all God needed to see. Many times, we won't take the first step of change because we're afraid we won't be able to make the whole journey.
Don't wait until you believe it all.
Don't wait until you can see it all.
Don't wait until you understand it all.
Trust God and step out in faith. He will meet you there.
Let's Pray

Father, I come to You in faith. I will admit that change scares me because it means I have to face the unknown. I know it is a control issue, Lord. Right now, I surrender the control of my life and my journey to You. Give me the strength to step out in faith and make the changes You are asking me to make.
In Jesus' Name,
Amen.
Now It's Your Turn
Read Isaiah 40:28-31 again.
Do you not know? Have you not heard? The Lord is the everlasting God, the Creator of the ends of the earth. He will not grow tired or weary, and his understanding no one can fathom. He gives strength to the weary and increases the power of the weak. Even youths grow tired and weary, and young men stumble and fall; but those who hope in the Lord will renew their strength. They will soar on wings like eagles;they will run and not grow weary, they will walk and not be faint.
Make a list of the reasons we can trust God – even when facing uncertainty.
Is God asking you to make some changes in your life? Record those changes in your journal.
What one thing is keeping you from stepping out in faith? Are you willing to surrender that one thing to God right now?
More from the Girlfriends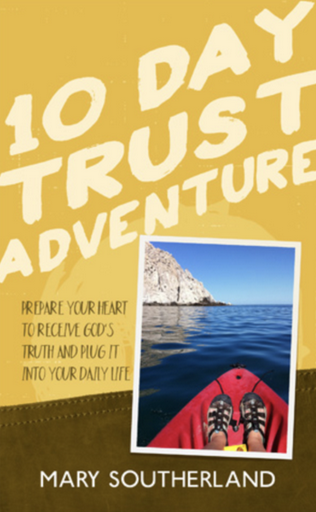 Need help learning how to trust God? Check out Mary's book, 10-Day Trust Adventure for practical ways to trust God in every area of your daily life. And be sure to connect with Mary on Facebook or through email.
Seeking God?
GirlfriendsInGod.com
Originally published Tuesday, 18 June 2019.