July 2, 2019
God's Perfect Provision Part 2
Mary Southerland
Today's Truth
 I will provide for their needs before they ask, and I will help them while they are still asking for help (Isaiah 65:24, NCV).
Friend to Friend
Despite a very shaky start, the weekend could not have gone any better! (If you have not read yesterday's devotion, stop where you are. Go back and read it … now!)
Dan and I finally made it to Greensburg for my speaking event and checked into our hotel only to discover that the air conditioning in our room did not work.
I. Did. Not. Care.
I was so tired that I literally climbed into bed and pleaded with my sweet husband to just deal with it. He did. I vaguely remember the maintenance man kicking the air conditioning unit in our room, and the unit coming to life. Go God!
And God was all over the event from beginning to end. I totally forgot about my hurting back the minute I began to speak. Every time I gave an invitation, women flooded the aisles. I talked and prayed with woman after woman … all seeking God and His power to redeem, heal, and restore. It was an amazing day!
I even managed to forget about the fact that this "free" event had gouged an unexpected hole in our finances. I shakily chose to trust God.
The next day I spoke for the church where my friend and her husband are the pastors. I noticed her look of concern when I hobbled in and assured her that I would be fine. I then turned to Dan and quietly pleaded, "Do you have a sermon in your pocket?" He smiled and said, "You've got this, honey." I did not care for his faith in me at that moment. But when I got up to speak, God did indeed come through again. It was a precious service and a time of eternal business with God.
On the way home, Dan and I talked and laughed about the whole weekend … from the minute we stepped up to the airport counter … to the air going out in his truck and that funny little auto parts store. We then celebrated all that God had done in the lives of the people who came to hear His Word and were forever changed through His power.
"Oh, did you check your money pouch?" Dan asked. I had honestly not even thought about it. I had only brought a minimum number of books and CDs to sell and really did not expect much.
And that was my problem - my pitiful expectations - my meager faith.
We serve a God who can do a whole lot when we expect Him to. When I counted the money, I could not believe it. We had just enough to cover all of our expenses for the whole weekend! We partied all the way home!
But there is more.
When we got home, pulled in our driveway, and opened the garage door, Dan said, "Uh, honey, I think you need to go in the garage."
Now that was strange. Dan had just told me to stay put while he unloaded the truck and opened the door. Yes … I had a frozen bag of peas that still had a little life left in it. But I got out of the truck and went in the garage and promptly started screaming!
There sat a 2004 silver Honda Pilot. The car was in mint condition. The dealership papers said it had new tires, a new transmission, and a new timing belt. The car was a lease and had been perfectly maintained. And it had a third row … big enough for all of our grandchildren!
The note on the windshield said it was a gift from the men in Dan's fireside group. Three months earlier, they had noticed the absence of my old car and asked Dan about it. That's all.
And now the note read, "It is unacceptable for our pastor's wife to not have a car. We want you to know how much we love you." And there were no names except for the one man who had to title the car. I had no idea who to thank.
Oh, but I did.
My Father had worked through the willing hearts of some precious men to meet a need in my life. So I named the car Gracie. And every time I get behind the wheel of Gracie, I am reminded that no matter how hard we try, we simply cannot out-give God.
I want to live my life with open hands, dusty feet, calloused knees, and rolled-up sleeves. I want to be a generous giver. I may not have much money, but I can give what I have. I can give my time and energy … my love and concern … a listening ear and a caring heart. I can give my life. 
Let's Pray

Father, Giver of every good and perfect gift, teach me how to give. Help me see those in need and be quick to meet their needs. I choose to crucify myself in order to give in such a way that pleases and honors You. Thank You for the privilege of giving.

In Jesus' Name,

Amen.
Now It's Your Turn
Choose now to become a generous giver. Ask God to show you a person in need … and then show you how to meet that need. I would love to hear your "Giving Story" this week. Email me: mary@marysoutherland.com
More from the Girlfriends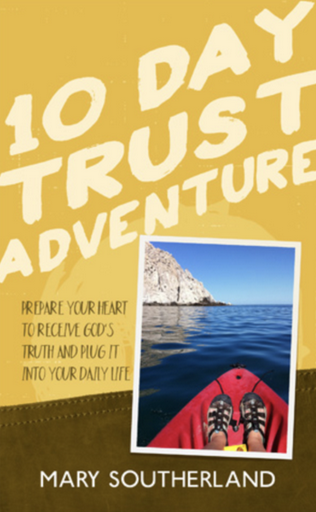 Do you want to grow in your ability to trust God? Get Mary's E-Book, 10-Day Trust Adventure. Be sure to check out the FREE MP3s on Mary's website and connect with Mary through email or on Facebook.
Seeking God?
GirlfriendsInGod.com
Originally published Tuesday, 02 July 2019.