January 11, 2018
Transforming a Painful Childhood into a Purposeful Adulthood
Sharon Jaynes
Today's Truth
"The Spirit of the Sovereign Lord is on me, because the Lord has anointed meto preach good news to the poor. He has sent me to…bestow on them a crown of beauty instead of ashes, the oil of joy instead of mourning, and a garment of praise instead of a spirit of despair" (Isaiah 61:1,3a, NIV 1985 edition).
Friend to Friend
In my last devotion we visited with Queen Esther, but I'm not quite ready to leave this little orphan-girl-turned-powerful-queen just yet. Reading her story gives me so much hope! While we don't know much about Esther's parents, we do know that she was an orphan who was raised by her cousin, Mordecai. As far as we can tell, she had no feminine influence in her life, and yet she grew to be a gracious lovely woman who won the favor of everyone she encountered.
Perhaps your childhood was less than ideal. Perhaps you had an alcoholic father, an absent father, an abusive mother, or an aloof mother. Perhaps you lived in poverty, grew up in an orphanage, a foster home, or with parents who felt you were a bother instead of a blessing. Even if you had a wonderful childhood, I bet you know someone who didn't.
Let me assure you of this, no matter what your childhood memories hold, God can and will use every bit of it for His purposes and for His glory…if we let Him. It doesn't matter how you started; what matters is how you finish.
Paul said, "This one thing I do: Forgetting what is behind and straining toward what is ahead, I press on toward the goal to win the prize for which God has called me heavenward in Christ Jesus" (Philippians 3:13-14). Paul had to put his past behind him to accomplish what God had called him to do in the present.
Likewise, when we put our painful pasts behind us and obey what God is calling us to do in the present we will experience a fruitful, fulfilling, fascinating adulthood. He can take those miseries of the past and turn them into ministries in the present. He can take our messes in life and turn them into messages of hope. God took a frightened orphan girl and used her to accomplish a great mission. He did it for Queen Esther. He wants to do it for you.
Let's Pray
Lord, I want to be like Esther. Not that I want to be a queen, but that I want to be your servant for such a time as this. Help me to not dwell on what went wrong in my past, but to look forward to what You want me to do right in my present and my future. Choose me. Send me. Use me.
In Jesus' Name,
Amen.
Now It's Your Turn
If you read Esther 1-4 in my last devotion, God Has Big Dreams for You, I encourage you to read Esther 5-10 today.
It's a fun story for all of us girls! No wonder the Jews still celebrate her today.
I'd love to know your favorite part of Esther's story. Click over to my Facebook page and tell me your favorite part, and I'll tell you mine.
More from the Girlfriends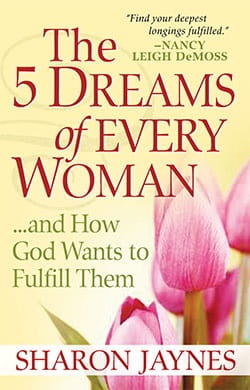 Looking to discover God's plan for your life? Then check out my book The 5 Dreams of Every Woman…and How God Longs to Fulfill Them. You'll read about Sarah who interferedwith God's dream, Naomi who forgot God dreams, and Esther who accomplished God's dreams. If you are ready to place your hand in God's and go to the exciting place He has for you, then this book is for you! Come on! Let's dream again!
Seeking God?
GirlfriendsInGod.com
Click here to learn more about hosting a Girlfriends in God conference in your area or having one of the GiGs speak at your next women's event.
Originally published Thursday, 11 January 2018.