February 20, 2019
Especially In Scary Places
Gwen Smith
Today's Truth
"This God, our God forever and ever— he will always lead us." (Psalm 48:14, CSB)
Friend to Friend
I couldn't help but notice the flying shoes. Strewn across power lines all over El Salvador was pair after pair of dirty, old tennis shoes that had been tied together and strung over the wires that lined the streets. On the bus, our guide pointed them out. Telling the story that those tennis shoes serve as territory markers for the violent gangs and drug cartels.
They establish boundaries and stake claim to who runs what in particular parts of town.
My heart sifted through the language, economic and cultural barriers that separated me from them. I was stirred to understand more deeply. Distressed by the implications and evil. Moved to do something. To help. To protect.
As we got off the bus in each area, the guide gave specific instructions about what we could eat and drink, the time we had for the stop, the dangers of the area and the challenges the locals were facing. I was grateful for his direction and knowledge. It helped me know what to do and how to respond. Made me feel more confident. More safe. With the guide, the trip was far better than it would've been had I tried to explore the region on my own.
Psalm 48 celebrates God's presence and showcases Him as our Security, Defender and Guide.
 A good guide knows his stuff. He's got the backstory on places you go and is able to answer the questions that come up along the journey.
A good guide stays with you, even in the scary places, and helps you see and understand the history, significance and culture as you pass through new places.
A good guide welcomes your questions, warns you of danger and points out tennis shoes on power lines.
It's easy to feel lost and trapped by barriers of life that keep us from understanding or knowing which way to go. "For this is our God for ever and ever; He will be our guide even to the end." (Psalm 48:14, NIV)
As I read Psalm 48:14, I breathe in a fresh confidence. God is not just a good guide, but the one and only perfect Guide.
He's the Guide I need. The Guide that walks with me along the path, offering protection and direction. Our security and peace are amplified when we listen to and heed God's instructions.
Let's Pray

Dear Lord,

In Your presence I find joy and security. Thanks for being my Defender and Guide. Thank You for offering me access to Your endless protection and direction. Please help me know what to do with ____________________.

In Jesus' Name,

Amen.
Now It's Your Turn
Read Psalm 143:8, "Let the morning bring me word of your unfailing love, for I have put my trust in you. Show me the way I should go, for to you I entrust my life."
What two requests does the psalmist make? What's the chosen response? Will you make the same request and response today? What do you need to trust Him with?
More from the Girlfriends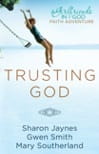 SPECIAL OFFER: If today's message is where you are and you need more practical help, we have a resource called Trusting God. Gwen is offering a 20% OFF discount on the Trusting God book from her site when you use the coupon code: 20OFF. Click here to get yours now.
PSST! If you're on Instagram, Gwen would love to connect with you! Follow here. 
Seeking God?
GirlfriendsInGod.com
Originally published Wednesday, 20 February 2019.