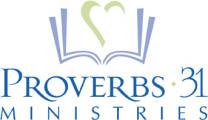 April 7
Encouragement for Today
Hang On
Glynnis Whitwer, Senior Editor P31 Woman, Speaker for Proverbs 31 Ministries
Key Verse:
We wait in hope for the Lord; He is our help and our shield.  In Him our hearts rejoice, for we trust in His holy name.  Psalm 33:20-21
Devotion:
I told my first-grade son, Robbie, that I would bring him a special treat for lunch that day.  He was overjoyed.  He knew that several times a month for the past few years, I had been joining his older brothers for lunch at school and now it was his turn.  He got to pick his favorite fast food meal and sit at a special table with Mom.
I left the house with just enough time to pick up the food, but didn't anticipate a short-staffed restaurant.  I waited my turn as the minutes ticked by, anxiously checking my watch every 30 seconds.  If I could have jumped behind the counter to help, I would have.  
The school schedule is exact and so I knew when Robbie would be walking from his classroom to the cafeteria.  I knew when he would be sitting at a table, staring at the door, willing me to walk through it.  Unfortunately, at that minute I was still in line.  
I could have cried knowing my little boy was waiting and wondering where I was?  Was I coming?  Did I forget?  Did something happen to me? Should he try and eat something from the cafeteria?   Hang on, Robbie, I thought.  I'm coming as fast as I can.
Finally, I got to the school about 5 minutes late, which is an eternity when you are six.  I raced into the cafeteria to find him sitting alone, with his little arms crossed on the table, and his head resting on his arms.   As I called his name, he looked up and his big brown eyes shimmered with unshed tears.   But that quickly changed to joy when he saw the Happy Meal bag (oh, and me, of course).
I wish I could have erased the anguish Robbie felt during that wait.  God must feel that way too.
Although God's delays are never because of poor planning, sometimes we must wait upon His perfect timing.  He knows He's just around the corner, with something even better than the "Happy Meal" we've asked for.   He knows we often wring our hands, wondering if this time He'll forget.  But the truth is, He never forgets.  He watches us and knows our anxious thoughts.  Although I couldn't comfort my son when I was delayed, God has sent the Holy Spirit to be our comforter.
Waiting is never easy.  The good news is, when we wait on the Lord, we can trust that it will be worth the wait.  We need to rest in the knowledge that He never forgets, He never is late, and His plans for us will surpass even our fondest hopes.
My prayer for today:
Heavenly Father, I praise you for your faithfulness.  Help me to trust you, even when I can't see what you are doing.  Help me wait with anticipation as you reveal your plan for my life.  Thank you for your steadfast love.  In Jesus' name, Amen.
Application Steps:
Remember a time you had to wait for God to answer one or more of your prayers.  Can you see how His timing was better than yours?  Describe.
Reflection points:
What fears and thoughts arise in your mind when you have to wait on God?
What should our attitude be like when we are waiting for God?
What are some reasons that God might delay answering you?
How does waiting develop our character?
Isaiah 40:31 says that those who hope in the Lord will renew their strength and soar like eagles.  How is learning to hope in God like learning to soar?
Power Verses:
Psalm 25:5 "Lead me in Your truth and teach me, for You are the God of my salvation; for You I wait all the day."  (NAS)
Psalm 27:4 "Wait for the LORD; be strong and let your heart take courage; Yes, wait for the LORD."  (NAS)
Micah 7:7 "But as for me, I will watch expectantly for the LORD; I will wait for the God of my salvation. My God will hear me."  (NAS)
Luke 12:35  "Be dressed ready for service and keep your lamps burnings, like men waiting for their master to return from a wedding banquet, so that when he comes and knocks they can immediately open the door for him."  (NIV)
Isaiah 40:31 "… but those who hope in the Lord will renew their strength.  They will soar on wings like eagles; they will run and not grow weary, they will walk and not be faint."  (NIV)
Additional Resources:
Who Holds the Key to Your Heart?  By Lysa TerKeurst
http://www.gospelcom.net/p31/resources/key.html
P31 Woman Magazine by Proverbs 31 Ministries
http://www.gospelcom.net/p31/resources/newsletter.html
The Ultimate Makeover, by Sharon Jaynes
http://www.gospelcom.net/p31/resources/makeover.html
Originally published Wednesday, 07 April 2004.