5 Reasons Why You Can Trust God in the Storms of Life
Ironically, before Charlottesville ever happened, my kids and I had a conversation about the Klu Klux Klan. In an effort to keep my kids reading during the summer I went to the local public library and loaded up on audio books for children. One of those aforementioned books was set in the South during the 1930s, Tru and Nelle by Greg Neri. We listened as the main characters formed an unlikely friendship and soon found themselves playing detectives in a case that turned far more serious than I could have imagined.
Before I knew it, there were descriptions of men with white capes, pointy hats and torches all ablaze. I was left with two options: stop the CD and pop in something light and fluffy or venture out into the deep with my partially sheltered kids in tow. I chose the latter.
In hindsight, even though it pained me to talk with my kids about opposition to their brown skin, given the condition of our world, I know it was a conversation I couldn't avoid. Times are uncertain. Daily we are bombarded by news of racially motivated rallies, wars, threats of nuclear weapons, murders, natural disasters, devastation… the list goes on.
We live in a fallen state. The moment Adam and Eve took a chunk out of of that desirable fruit they kicked the door wide open for sin to walk through. For those of us raising the next generation, we can't help but wonder what type of planet our kids, grandkids, and great grans will live on. But we can't live behind barricaded doors, paralyzed by fear in our uncertain times; we must live courageously as people who dare to step out into the storms of life.
As we boldly take steps into the unknown, we can glean from the disciples' encounter with fear.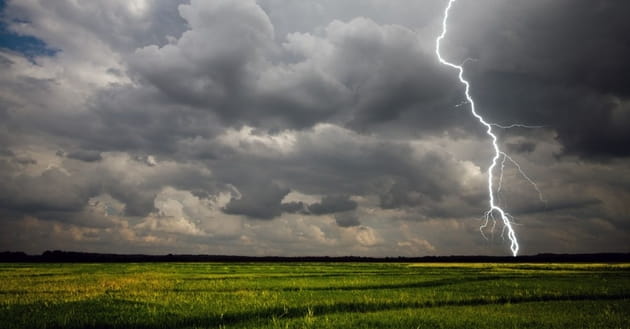 Truth #1: God Allows the Storm
In Matthew 14:22-24 it says: "Immediately Jesus made the disciples get into the boat and go on ahead of him to the other side, while he dismissed the crowd. After he had dismissed them, he went up on a mountainside by himself to pray. Later that night, he was there alone, and the boat was already a considerable distance from land, buffeted by the waves because the wind was against it."
Does it strike you that Jesus "made" the disciples get into the boat? The word made in the Greek means doing so with urgency as a pressing need necessitates. Here in this text we see an all knowing Jesus, strongly urge his beloved disciples into a boat knowing there was an oncoming storm.
Why would He do that? Did he not love the disciples or care about their safety? Was He being careless with their lives? On the contrary, I believe the answer is found in the book of James.         
"Consider it pure joy, my brothers and sisters, whenever you face trials of many kinds, because you know that the testing of your faith produces perseverance. Let perseverance finish its work so that you may be mature and complete, not lacking anything." - James 1:2-4 (NIV)
When we weather the storms in our lives it produces perseverance. Just like the disciples, God intentionally uses life's storms to mature our faith. 
Image Credit: Thinkstock.com