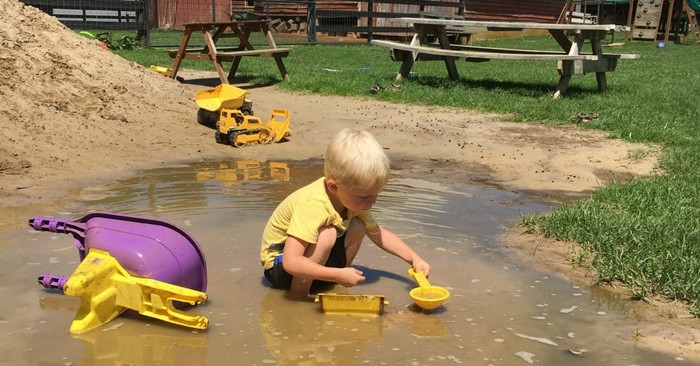 If God created the earth, called it good, and gave it to us to cultivate, then some of the greatest good we can do is to enjoy it too.
It was early noon on a hot summer day with temperatures nearing 95 degrees when I took my 3 and 4-year-old sons to a local farm to burn off some energy (and hopefully wear out for a good nap!). They immediately did what all boys always do and found the biggest puddle of water and mud. While all of the other children were content, or so they seemed, digging and playing in the sand pile next to the puddle, my two boys looked up with those big blue eyes and pleaded to play in the mud. 
Oh how my type-A personality wanted to scream no way! My heart saw their happy faces and began to plead with them for the fun of being a carefree child, even if it meant a mess to clean after. As a young mom, I had too often said no because of the inconvenience it would make for myself. I would have to help them get into the car all wet and muddy, I would be the one cleaning out the van when we got home, I would be the one giving them baths, my quiet time during naps would be cut short… and so went the excuses played on in my mind. 
Not this time. This time I let them free. And in letting them be free, I set myself free. 
Yes sweet children, yes. 
Other moms quickly began to scoop up their children out of the sand and move onto the more "clean" playground area. The stares came quickly as did the swift warnings to their own children.
"Honey, don't get your pants messy like those little boys."
"Get away from the mud! I don't want to clean that up!"
I heard the pleas of the kids to jump in the puddle too and the questions asking why they couldn't play in the mud. 
I ignored the mommy judgment and spent the next hour watching my boys delight in squishing mud and pouring buckets of water. I also used the time to reflect on the lesson God was trying to teach me in letting go of my often too quickly given "no."
Here are the 3 things I learned during that dirty, precious, joyful playtime:
God gave us the earth to explore and enjoy.  
"In his hand are the depths of the earth, and the mountain peaks belong to him. The sea is his, for he made it, and his hands formed the dry land." (Psalm 95:4-5)
If God created the earth, called it good, and gave it to us to cultivate, then some of the greatest good we can do is to enjoy it too! Some of my fondest memories growing up are of walking in my grandparents' creek and making mud pies.  I can just imagine God's pleasure in being glorified as our little ones delight in his creation (and us too!).
Side note, there are plenty of studies that show dirt is actually good for our body, brains, and skin! (Read Up: New York Times: Babies Know, a Little Dirt is Good for You, WebMD: Are We Too Clean? Letting Kids Get Dirty And Germy)
Teaching Creative Thinking through Play
My 4-year-old son decided it was the coolest thing to roll a ball through the mud and aim for a hula hoop. Meanwhile, my 3-year-old was content going back and forth between filling buckets of water and dumping it on sand to watch it disappear through the cracks. Sure this isn't going to make them rocket scientists overnight but they're exploring and creating.  And that's a lot better than sitting nice and clean in front of a TV or video games. 
And at the Heart of it All… Learning to Put Myself Second
At the center of my struggle all along was my desire to be in control and remain comfortable. It's a lot easier to say no than it is to say yes and have to clean up the mess. The memories I've missed because I was too concerned with how much time and effort it would take on my part! I believe we can teach and model the fruits of the Spirit – love, joy, peace, patience, gentleness, kindness, faith and self-control – to our children through our ability to say yes to their simple requests, even if it means some extra work for ourselves. I needed to let go of my selfish motives for saying no. 
I'm not saying children do not need to hear no; we certainly have times when we need to say no because of our schedule or other commitments. But there are many times we can say yes but don't because we simply don't want to put forth the effort.
It was time to clean up and head home for lunch. The sweetest moment came when my 4-year-old spoke up from the back seat, "Mommy, thank you for letting us play in the mud today. That was real fun." 
Take a deep breath momma. God will give you the strength to clean them up after the mess is made. Set your children free and set yourself free.  The joy that both you and your children will experience when you can say yes is far greater than the satisfaction you will have in feeling like you've maintained comfortable order and control. 
Go play. 
Kristie Wahlquist is Senior Marketing Specialist for Salem Web Network. As a work from home parent, she is blessed to be mom to two biological sons, a step daughter and twin step sons. She and her husband live in Virginia and enjoy large cups of coffee, loud worship music, and serving in the local church. 
Publication date: July 8, 2016
---
---