6 Ways Discontentment Destroys Women
According to Google, to be "discontent" means to be "dissatisfied with one's circumstances." It's such a simple little word with such a simple little definition. I love Google, but I think their definition for this word is deceitful. Discontentment is so much more than this suggests. Discontentment ruins friendships, marriages, and lives. And while I don't like making blanket assumptions, and I know I can't speak for everyone, I believe that (for the most part) this is one of Satan's most powerful weapons against women, in particular.
You see, I think the Father of Lies and Deceit has a way of taking this simple little word and turning it into a HUMONGOUS problem. The simplicity of it is what makes it so easy for him to use discontentment against us. It always starts out so small, doesn't it? Maybe your job took a pay cut and you had to downsize, maybe your husband took a promotion but it's in another city, maybe your toddler decided to become Pablo Picasso all over your brand new cream-colored sofa cushions. The seed is planted, and now you are not content with your life as it is. You want a new sofa, or a new job, or a new car.
Image Credit: Thinkstock.com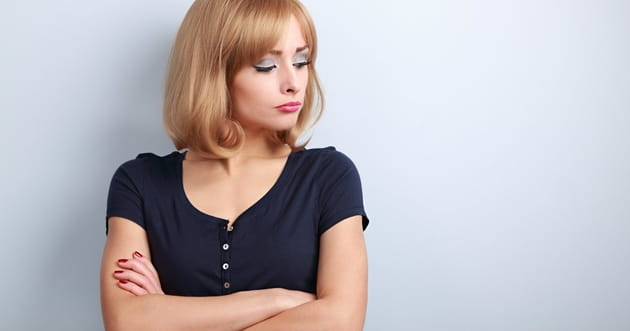 The Power of Discontentment
Your husband comes home from work one too many times and doesn't bother to ask you how your day was, so you start feeling discontent in your marriage. You sit and watch as your friends get married until you're the only one left and you start to feel a little bit like Katherine Heigl in that movie about the bridesmaids dresses, only there's no James Marsden ready to swoop into your life and give you the romance you've been craving. You cry in your bathroom every month when you realize you still aren't pregnant. All of these things are devastating to varying degrees. All of them are worthy of your sorrow and concern. No one expects you to be happy when you are not.
But we have to be on our guard, because Satan knows what we want and he knows when we don't get it. He knows when we aren't satisfied with our lives as they are. He uses those tiny grains of discontent and he irritates us with them over and over until you've got a clam/pearl situation and that tiny grain of discontent is all the sudden the size of a Volkswagen. He irritates us with it until it's the only thing in our lives we can focus on; until everything else no longer matters. This is when our discontentment becomes dangerous. This is when it is capable of destroying us.
Image Credit: Thinkstock.com